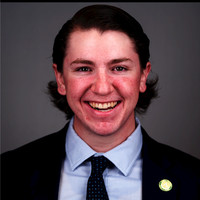 Kleos Africa Consultant of the Week: Devon Neudorf
Devon is a Canadian National with a great deal of experience spanning multiple industries. He has spent time working for Fortune 500 Companies in both New York City and Toronto. Some of his specialties include Business Strategy, Business Transformation and the creation of Business Plans for new Startups or subsidiaries. He has experience in industries spanning from Finance, Insurance, Non-Profit, Education and Human Capital Management.

Devon shares his inspiring story in the interview below:
Tell us a bit about yourself
I'm currently an International Business MSc Candidate at Ivey Business School in Canada. I completed my undergraduate studies at Adelphi University in New York, graduating Summa Cum Laude with a BBA in Finance. While at Adelphi I was a Varsity Athlete all four years, spending three years as the Team Captain.
My work experience includes stints with Fortune 500 companies in both New York City and Toronto.
What made you choose to study International Business?
With the consistent advances of technology, the world's borders are growing smaller and smaller each day. Companies are now able to grow worldwide and scale up outside of their immediate economies thanks to this. We're able to constantly achieve economies of scale while accessing markets with vast talent pools and resources.
One cannot underestimate the importance of cultural differences when conducting business in an international setting. What is considered acceptable in one culture can be completely insulting in another. This acceptance and understanding of other cultures are integral to any company's worldwide success.
Why did you choose to register as a business plan consultant on Kleos Africa?
I chose to register as a business plan consultant on Kleos Africa for a couple of different reasons. I met the Founder of Kleos, Glory Enyinnaya at a conference in Chicago, USA. When she explained the platform to me, I knew it was a perfect fit for me.
Not only does the platform give me the opportunity to share my expertise and apply my knowledge to companies in a market to which I previously had limited access to; but I also hope to learn more and more about African culture from the companies that I am able to connect with and work for.
What is a business plan?
A business plan is a document which summarizes both the financial and operational objectives of any business. Along with these objectives, a business plan includes the plans, budgets and strategies that will make it happen.
Why are business plans important?
Business Plans are integral to the success of any business for a number of different reasons. One reason is that they help you to make the right decisions. By setting out a plan and executing upon it, you will understand that you are on the track to success for your business. Another reason is that this business plan can help you to identify the largest weaknesses in your business. You can identify these yourself once everything is being completed or these areas of weakness can be identified by experts who are reviewing the document. Finally, no bank or investor will lend to you without a completely sound business plan. Providing an investor with a thorough business plan will give them confidence that you will be able to return their investment and even turn a profit.
What are the elements of a good business plan?
A good business plan must be extremely comprehensive, but I will say that three of the most important elements would be a Market Analysis, Financial Projections and an Executive Summary.
Market Analysis – A thorough market analysis will provide you with an outlook on the industry you're looking to enter. Using data analytics on the past, current and projected future of the market will be integral to creating many other pieces of your business plan.
Financial Projections – Without Financial Projections on how and when your company will generate profitability, it is nearly impossible to obtain funding. Investors due not give their money to a new company simply because of the idea, they are investing to make money and as such require these projections to do so.
Executive Summary – This is essentially a one-page summary of the entire business plan which highlights the most important parts. A well-written Executive Summary can catch the attention of even the busiest and most influential investors as it can quickly explain what your company plans to do. As this essentially sums up your entire business, it is best to write your Executive Summary after completing the entire Business Plan and then placing it at the front of the entire plan.
What advice do you have for a budding entrepreneur who is considering creating a business plan?
I feel as though any entrepreneur who has a business idea should not make their dream a reality without a complete and thorough Business Plan. Many people are extremely innovative and have incredible ideas but lack the business knowledge to come up with a Comprehensive Business Plan. If you find yourself falling into this category, you should undoubtedly seek the help of a business professional who will provide you with the expertise necessary to getting your business started on the path to success!
Like what you see thus far? Book Devon for your business plan services on Kleos Africa today!